Pro Podcasting
May 19
5 Awesome Female Bloggers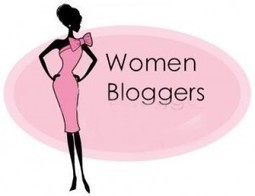 Read about the awesome female bloggers of this world who are doing wonderful on their blogs. 
1. Ileane Smith:- She Doesn't need any introduction, she is the queen of blogging who is running a high quality blog on blogging niche; BasicBlogTips.com. I came into contact with her when I had asked her for an interview of my Coffee with Atish series. You may find that Interview here:- Interview With Ms. Ileane of Basic Blog Tips.

She is one of the best bloggers in blogging niche I ever met. Inspite of being a great blogger she always ready to help everyone through her blog or in a Facebook Group called Blogger Ileane Smith Fan Club. Ask any kind of help regarding blogging, Ma'm Ileane will be there to help.
Ileane Smith's insight:
Comment I left on the post: 
Atish, you are amazing!
I didn't realize you were giving so much attention to the wonderful women of the world but I'm not surprised. You are really a great guy who is very sensitive and kindhearted – I knew that from the first time we chatted online.
I appreciate all you do!
Each of the bloggers you featured here do have something unique in common and I think many of the commenters have mentioned this already. Being "down to Earth" is such a hard to find quality, especially in the online world.
I'm honored to have you and other's say that about me and it makes everything I do worthwhile.
Thank you!
See on techtricksworld.com
How to Increase Traffic to Your Website : 11 New and Old Effective Tips



Blog post at NoPassiveIncome.com : I have always loved browsing and reading articles about how to increase traffic to my websites….



6. Use Google Analytics and Google Webmaster Tools

They are indispensable tools for analyzing the statistics of your site and to correct errors on your pages. You should always analyze your traffic and discover what are the most visited pages on your blog.

This will help you understand what will be the subjects you need to write about in your next blog posts.

Ileane Smith wrote a recent article about "Getting Started with Google Analytics", specifically for bloggers. There are some written content, a slideshare presentation and some useful videos. You may learn a lot from this material, like setting up your first URL goal – thank you, check where your readers go after visiting your blog or where they come from when they arrive to your pages.




Ileane Smith's insight:

It's fantastic to see that more bloggers are putting this advice to good use. Erik is an awesome blogger and this post is chock full of excellent tips (including mine).


See on nopassiveincome.com
May 18
The Top 5 Most Influential Bloggers of My Career
Here are the top 5 most influential bloggers that can help you accomplish anything online! Check out who are my favorite bloggers!
Ms Ileane Smith of Basic Blog Tips
Ileane Smith was the first popular blogger to even talk to me!  From the start, she has always been willing to help, giving me guest posting opportunities on her site, being involved in social sharing groups, and Facebook collaborators.  Her story is pretty funny.  She accidentally started a blog while trying to look at her daughter's site!  From there she has went on to create a large group of guest posters on her site, guest post at other sites, and generally getting her word out there.  She is a great person to get to know.  Listen to her podcast for more info on blogging tips!
Ileane is proficient in WordPress blogging, podcasting, and anything blogging related. If you're looking to get your voice heard, then you can check out her site and request a guest posting opportunity. It's a good way to get started, and how I got my start!
She has been featured in different sites as cutting edge in the blogging industry on sites like BizSugar, Bloggers, and BlogEngage and she can help you in your blogging endeavor's.  Ileane has been very influential in my blogging experiences.
See on bloggersmakemoney.com
May 17
4 Reasons Why Podcasting Is The Best Investment For Building Your Platform
Do you have a message that you want to get out to the world? Do you want to take your brand exposure to the next level? In this short video, I share four rea…
See on youtube.com
Video Marketing Is Easier Than You Think - Just Do It | Synergy Marketing Pro
Videos can help you rank high on search engine, bring your prospects and build your online credibility and authenticity. And vidoe marketing is easier than you think …
See on synergymarketingpro.com
How to Track Conversions from YouTube Viewers [Video] - BlogWorld (blog)
How to Track Conversions from YouTube Viewers [Video]
BlogWorld (blog)
In this video, Ileane Smith walks you through exactly how to set up a Google Analytics goal and track conversions.
See on blogworld.com
YouTube Live now available to all channels with over 1000 subscribers - Digital Trends
Digital Trends
If you have a YouTube channel with more than a thousand subscribers and fancy doing a live broadcast on the site, you now have the chance.
See on digitaltrends.com
What Is Affiliate Video Marketing - Business 2 Community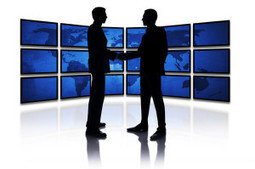 Business 2 Community
What Is Affiliate Video Marketing
Business 2 Community
As a business owner your responsibilities and tasks can be overwhelming at times.
See on business2community.com
Ileane Smith, msileanespeaks.com (Social Web Cafe Interviews)
Social Web Cafe Interviews http://www.SocialWebCafe.TV Deborah chats with Ms.
Ileane Smith's insight:
I had so much fun during this interview. Watch it if you want to see me laugh, because I do a lot of it.
See on youtube.com
May 16
Broadcast Live with Spreaker - School of Podcasting - Learn "How To Podcast" with Podcast Coach Dave Jackson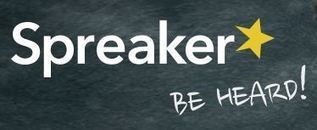 Broadcast Live with Spreaker…Today I interview Anna Piazza of Spreaker.com who introduces us to their service. I've played with spreaker for about a month, and if you are looking to broadcast live this is a good service. Unlike Blog Talk Radio (which I have documented why I feel they are the devil numerous times on this website) this site allows you to create a decent sounding podcast using online tools. Their chat system is built in and works, and you can embed their player on your website.
Ileane Smith's insight:
Great way to start a FREE podcast! I've done a couple of reviews of Spreaker and I was even interviewed on their blog before. It's a really cool service you should check out if you want to get started with podcasting
See on schoolofpodcasting.com
May 15
Top 10 Killer Traffic Generation Blog Posts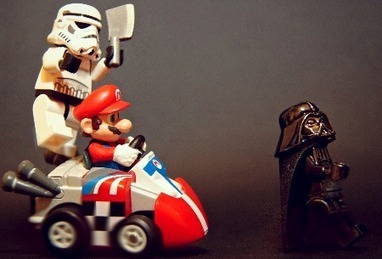 First let me say that creating this list was a huge task. It took me a long time to finish it and I hope you appreciate my efforts. I've been studying for more free ways to generate traffic online …
Traffic Generation Blog Post #8: 7 Website Traffic Tips to Get 10 Thousand Website Visitors Per Day . This is a guest post written by Mitz on Basic Blog Tips. The title might seem a bit hypey but Mitz actually does get far more than 10,000 visitors a day on one website alone. So if she has something to say about traffic generation we should all listen very carefully.
Ileane Smith's insight:
Mitz is does an awesome job of generating traffic for her websites. Her YouTube channel is amazing also! 
See on lazycashmakingformula.com
May 14
Why Your Business Videos Should be on Vimeo - Marketing Technology Blog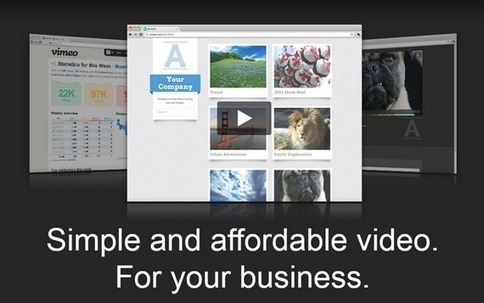 We love Vimeo Pro (that's our affiliate link) and we encourage our clients to host their videos there for a number of reasons (in addition to YouTube).
See on marketingtechblog.com
Free YouTube Report - 5 Top Weapons From My YouTube Arsenal!
Ileane Smith's insight:
YouTube is one of the top traffic referrers to my blog and I want to help you build an audience on YouTube and get more targeted traffic back to your blog too! 
Download the free report now and find out how you can grab a free demo of the premium WordPress plugin I use to get real results.
See on basicblogtips.com
How to embed only a Part of YouTube video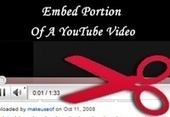 Here in this post we will guide you how to embed only a part of YouTube video. Complete procedure is explained below….
First you have to go to YouTube video page and copy the URL on the title tab which generally ends with "v=" and is known as video ID. You can copy paste this video link to your PowerPoint presentation as shown below,
http://www.youtube.com/v/VIDEOID?version=3&start=9&end=15&autoplay=1&hl=en_US&rel=0
Now you can change the starting and ending point of the video along with the playtime by altering the values in above link. For example in above link, start=9 can be replaced by any other value based on where it should start and also end=15 can by replaced by some other numeric value based on stopping point of your preference….
See on designgraphica.com
May 13
Social Subscribe & Follow Icons | The Audacity To Podcast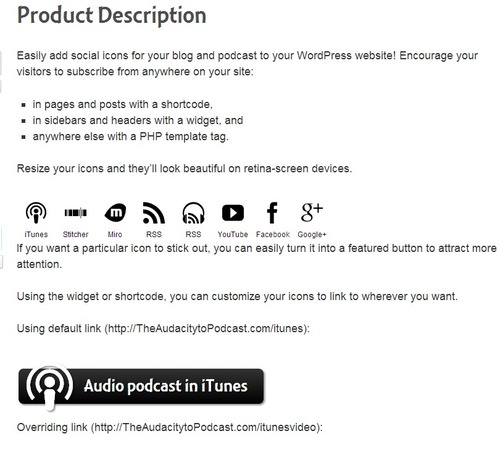 WordPress plugin for vector social icons for bloggers and podcasters.
Add vector social icons for bloggers and podcasters on your WordPress website!
See on theaudacitytopodcast.com